Cycling journalist and The Guardian's North of England editor Helen Pidd raved about the Ribble 525 steel bike in last Saturday's weekend edition of the national newspaper
The Ribble 525 is our versatile steel bike that is designed for a multitude of practical uses. Our love affair with steel frames has been going on for decades, but that's not to say we haven't moved on – far from it. Today, our steel 525 road bike is built for the modern era, meaning you can expect plenty of comfort and durability as well style. Prices for a fully built 525 start at £695.95.
Journalist Helen Pidd even tested the 525 during a rainy weekend in the Peak District and her review was published in Saturday's edition of The Guardian newspaper.
Pidd is the author of "Love your bike: the Complete Guide to Everyday Cycling" and a well-respected writer on all things cycling.
She gave the bike a proper testing riding with a friend who is predominantly a mountain biker which she says in the review "meant a few ill-advised 'shall we just see where this one goes?' diversions. One, past the Derbyshire village of Wash, involved pedalling up a gravelly stream and almost an early bath."
It soaked up the worst bumps
The 525 performed perfectly though and according to Helen, "The 25mm tyres rolled along fine, even on rocky terrain. The skinny steel frame (Reynolds 525) soaked up the worst of the bumps"
You can build your own Ribble 525 (from £695.95) using our easy-to-use BikeBuilder here.
We're including more of Helen's review below but for the full article visit The Guardian here.
"You know how some bikes just feel good? You get on, set off, and think: Oh, we are going to be together a long time. Like when you meet someone new and fit perfectly into their embrace on the first go without any need for adjustments. It was like that for the Ribble and me."
"It looks a delight… It's the perfect little winter bike, or a very snazzy commuter. I can really see a future for the pair of us together."
Tested: Ribble 525 in numbers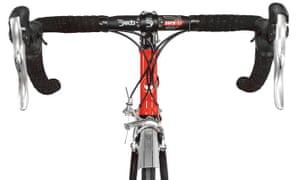 Frame (£659.95) Ribble 525 STEEL Winter/Audax
Groupset (+ £139.99) Campagnolo Veloce Silver 10 Speed Double
Seatpost (+ £18.99) CSN Carbon S.E. Seatpillar
Saddle (+ £5.99) Selle Italia Lady Flow Saddle
Guardian rating 9/10